Dear Neighbors,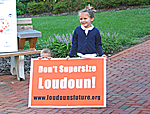 Citizens (and their children) speak out against new growth proposals. MORE»

A New City of 77,451 People?
Loudoun County has finally unveiled the actual number of new houses proposed along Route 50. Six developer proposals have grown to a county-initiated proposal (Dulles South CPAM) for 28,000 new houses. The county's current growth plan calls for only 4,571 houses.


This development would be larger than Ashburn, Leesburg, Falls Church, or Silver Spring. MAP»
Costs to Citizens Unveiled
Newly released information from a county staff analysis reveals what a huge impact this proposal would have on our communities, taxes, and families:
• 27,977 new houses
• 77,451 new residents
• 298,000 daily car trips
• $791 Million taxpayer dollars


Development at this scale will cost Loudoun residents far too much -- time stuck in traffic away from our families and jobs, higher taxes, and the overwhelming burden on our schools. To give you an idea of scale, this development would be larger than Ashburn, Leesburg, Falls Church, or Silver Spring.
Statistics from Loudoun County Government show the actual costs of the proposed changes. CHART»

County Admits Roads Will Fail
The proposed development will cause our clogged roads to completely fail - as predicted by this county analysis (Word document). The county predicts a Level of Service F, a failing grade, for many of our critical local roads including Routes 50 and 606. (Please note that LOS means Level of Service, which assigns grades A-F to roads based on how well they function).


Protect Your Quality of Life
Please mark your calendars for the county's open house on Monday, September 26 and the tentative public hearing on Monday, October 3. The open house is your opportunity to ask questions and get the facts about the county's proposal -- and the public hearing is your chance to be heard. On the right are other ways to help. If citizens don't speak out, special interests will determine the future of our communities.



Thank you for your continuing support,
Andrea McGimsey
Campaign for Loudoun's Future
http://www.loudounsfuture.org/
mail to [email protected]

-------------------------------------------------------------
Together, We're Fighting to Protect the Quality of Life in Loudoun

Please Help Us Reach You Better
Did this email get tagged as spam? Was the formatting difficult to read? Find this useful? Send comments to: [email protected]

Unsubscribe
To remove your email address from further communications, please send an email with "unsubscribe" in the subject line to:
[email protected]
Mark Your Calendars
Monday, September 26, 6-8 pm
County Open House on the Dulles South CPAM
Mercer Middle School
41249 Greenstone Dr, Aldie
Directions
County planning staff will be available to answer citizens' questions about the proposed changes.
Monday, October 3, 6:30 pm
Planning Commission Public Hearing on the Dulles South CPAM
County Government Center
1 Harrison St SE, Leesburg
Map & Directions

Let Others Know
Email this Message to Friends
The development community is hoping this massive city will be approved before the county's citizens find out. Don't let that happen.

Invite Others to Our Email List
Email friends a link to www.LoudounsFuture.org or click here to email this message to friends and neighbors. (We won't keep your friends' email addresses; we'll send them this message and an invitation to join our email list.)