A Platform for Loudoun's Future
We citizens of Loudoun County are passionate in defense of our communities and our environment.
Our daily routines are threatened by unrelenting traffic, increasingly long commutes, and inadequate public services stemming from too many years of unaffordable growth.
For several decades, Loudoun County has been the target of national developers and their proposals for massive increases in residential development beyond what our roads, schools and other community services can handle. Thousands of us fought back, seeking a say in the future of our home and the way it is planned.
With the current market slow down we have an opportunity to catch up and plan for the future. Solving our challenges, such as building 17 new schools in the next 10 years, will require the creativity, talent, and collaboration of us all – rural and suburban, old and young, newcomers and lifelong residents.
Land use and transportation decisions have profound impacts on our taxes, infrastructure, schools, roads, and historic and natural resources. Decisions about these wide-ranging issues must factor in their interconnections to be successful. Realizing that traffic, rising taxes, and other challenges we face are not separate problems, we take a holistic approach to meeting our community needs.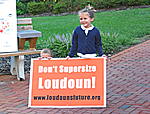 The needs of existing Loudoun residents must be met without losing sight of 40,000+ new houses approved over the past few decades and waiting to be built.
We want adequate libraries, ball fields, and schools for our children. We want to be surrounded by healthy ecosystems, which also provide habitat for wildlife. We value the history, rural economy and scenic beauty. We want the county to sustain our quality of life and property values. From suburban to rural Loudoun, we want the county to look out for the best interests of current and future residents, and we want critical decisions to be made fairly and democratically.