New Potomac River Crossings/The Techway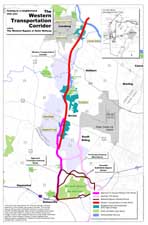 For years, officials have considered building a second bridge over the Potomac River despite multiple studies showing that a second bridge would actually increase traffic. Potential locations discussed are west of where most Northern Virginians live. New bridges at these locations would increase traffic cutting through our neighborhoods and on east-west commuting corridors.
Supporters of the Techway include the development industry, which has long wanted a new bridge to align with the various Outer Beltway proposals, such as the Western Transportation Corridor. Construction of a bridge and new beltway would open up large areas of rural land in Loudoun County and Maryland to development.
Where
Several potential crossing sites have been discussed, including Point of Rocks, Route 28, Algonquian Parkway, and various locations just east of Leesburg.
If approved
A second Potomac crossing would bring more traffic onto our roads, encourage more development in Loudoun County and points west, and squander possibly as much as $2 Billion on a bridge that won't solve our current traffic congestion. In a 1999 analysis, VDOT reported that 75-84% of traffic on any bridge crossing in 2020 would be induced traffic.
Why it's important
Our most pressing traffic problems are east-west, not north-south. We need traffic solutions that will work for the commuters of Loudoun County instead of wasting taxpayer dollars on a new bridge that will bring more traffic onto Loudoun roads.
Current Status
A 2003 study commissioned by VDOT showed almost no demand for a new bridge. However, in late 2004 several officials began publicly mentioning the idea again. Virginia and Maryland remain in disagreement about the best location for a second crossing.
Who decides
Virginia and Maryland state agencies
More details: Nine reasons to be concerned about a second Potomac crossing, plus studies and other resources